Back in October, I agreed to review a few baked goods that I thought would be a good fit for my style of eating. bakerly is a baked goods company that is set on bringing the style and quality of French baked goods to the American consumer.
I'm not a health food nut by any means but I'm definitely an ingredient reader. If I can't make it myself from scratch, there better be a list of ingredients I can pronounce on whatever it is I'm buying. The products of bakerly seemed to perfectly fit the bill.
On their website, the first thing you see is
"simple ingredients" is at the heart of our philosophy.
They tout all of their baked goods as:
non-GMO
no preservatives
no artificial flavors
no trans fats
no high fructose corn syrup
In fact, they have what they call a no-no list of all of the ingredients that you won't find in their baked goods.
Those are most of my requirements when buying packaged goods but I also care about the quality of the ingredients as well. On products like their hand-braided brioche bread, you'll find ingredients like wheat flour, whole eggs, sugar, concentrated butter that they procure from their farming partners.
Yes, I take all of that into consideration before signing on to review a product. It's not just about free bread for me!
The problem is that there was a delay in shipping and all of these delicious baked good arrived the day before Thanksgiving! As if I didn't have enough food (and calories) in the house! It turns out that in the midst of all of our Thanksgiving preparation, we didn't really stop to eat much. So when the box of goodies arrived, the first thing we did was dig into the crêpes that were sent.
If you're thinking that a packaged crêpe sounds like a really bad idea, you're not alone. I didn't imagine that either the strawberry-filled crêpes or the hazelnut chocolate filled crunchy crêpes would taste even remotely like a crêpe.
I was so wrong! As part of the snack line, they come individually wrapped so my son and I each tried one. We were both kind of shocked at how much we loved them. I'm wondering if in the future I could slightly heat them up in the microwave for more of a "just made" taste. Even without the heating, though, these are a great lunchbox treat, afterschool snack, or late night mini-dessert.
My husband tried the crêpes along with us and his preference was for the crunchy crêpe but my son and I preferred the strawberry.
Those were easy to review. But the other two products left us scratching our heads a little. We had the hand-braided brioche (packaged in a air-filled Ziploc bag to help it maintain its shape on the journey) and the brioche rolls with milk chocolate chips sent our way.
Sure, we could just eat the bread but I looked on the back of the package for suggestions. The recommendations for the hand-braided brioche included tearing chunks off and eating it (easy), or slicing and toasting the bread for breakfast, or even using this slightly sweet bread for a ham and cheese sandwich.
In the end, I decided to indulge over the weekend and make French toast (with maple syrup my brother brought me from Toronto!). And it was pretty much the best and easiest French toast I've ever made. Yup, sold. Everyone loved it.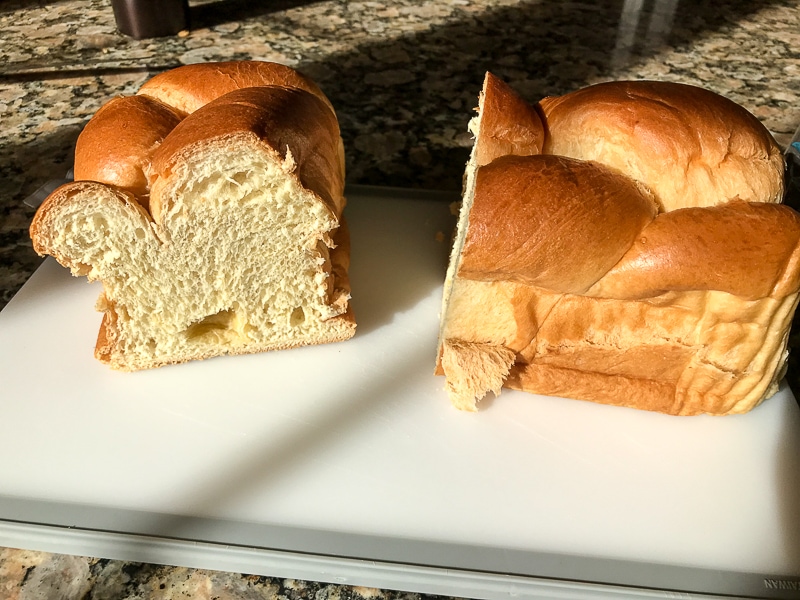 But what about those little brioche rolls? There weren't really any suggestions on the back other than "eat them" but my son said they seemed a touch dry. It turns out they are best served with coffee, tea, or hot chocolate (dunk and eat!) or you can try to get creative like I did.
For a light dessert one night, I sliced the rolls in half, lightly toasted them, and topped some with cream cheese and some with butter and cinnamon sugar.
I enjoyed both but my family declared the cinnamon sugar rolls as the winner. Really, I think we were all winners that night.
If you're looking for authentic French baked goods with real ingredients, you can check out the snack line and family line of products from bakerly, which includes everything I mentioned here as well as filled sponge cake (think Twinkie but WAY better), chocolate croissants, and brioche rolls and buns.
You'll find bakerly in many major grocers in the U.S. and while the products are currently being imported from France, they're working on their first American factory in Pennsylvania (maybe they'll give factory tours!).