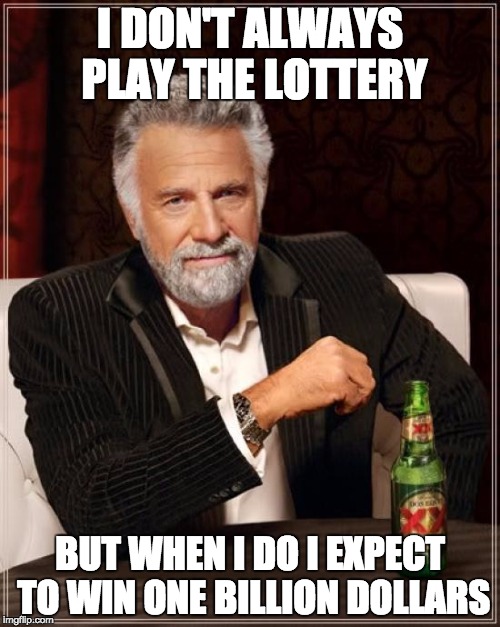 If you haven't heard lately, the Powerball lottery jackpot is up to an estimated $1.3 billion. I'm not a gambling woman but sometimes, you've just got to play the odds. And the odds this time are 1 in 292.2 million.
Here's the funny part of it all. I used to sell lottery tickets. I worked at the service counter for a large drug store chain in Ohio and after a few months, they figured I was responsible enough to handle the sale of stamps, money orders, and lottery tickets. And man, did I learn a thing or two about the lottery and, more importantly, about the people who played it.
There was one woman who came in every day. Every. Day. And she played the Pick Three. She'd hand me a scrap of paper with numbers scrawled on it and tell me if she wanted them straight or boxed. I'd print out the tickets and take her money, almost begrudgingly. Some days she spent as much as $15 on these lottery tickets which at the most would only pay out $500. I wanted to tell her she was fighting a losing battle. That she'd never win enough to make up for how much she spent.
via GIPHY
But we all have to play the odds and when I hear something astronomical, like 
1 in 292.2 million
, I don't ever tell myself there's no chance of winning. I tell myself that there's a chance that 
I
could be that ONE. Anyone could. I wouldn't bet my life on it but I'd certainly stake a few dollars on it.
In my household the other night, we started talking about the what ifs. What if we won? What would we do?
My son, Evan, said, "I don't even know why you're talking about it. It's not like you've even won yet."
And we told him that imagining what you could do with the winnings was half the fun! My husband and I started talking back and forth. There was talk of bigger houses for us, for my mom. Talk of cars and boats and exotic trips. I made my husband promise we'd do something extremely charitable. And as we were talking, we asked Evan what he'd do with the money.
It turns out that 8 year olds are much more imaginative when it comes to spending money than us boring grown-ups.
Evan started out by saying he'd like to build some sort of aquarium and have a pet octopus and then get about $1000 worth of gems for Clash of Clans. And that was it. We encouraged him to think bigger, broader, more expensive and he started getting really creative.
In addition to the above, he'd like to stay where we live but knock down our house and build a better one. One of the rooms would specifically house his antique sword collection (which I guess he'd have to buy). And he'd fill the house with colorful tile and buy a stretch limousine. I think he got that last one from us since I mentioned we'd have a limousine pick him  up from the bus stop every day.
via GIPHY
There was talk of bread. He said, "I don't know if this would be possible but some sort of way to bake really good bread." I told him that 
anything
was pretty much possible with a billion dollars and we agreed to a wood-fired stone oven for bread baking and even pizza making. 
Now
we were getting somewhere.
via GIPHY
He mentioned a room for about seven dogs and another room just for cats. And there would be land for chickens. In the same sentence, he talked about wanting a steady supply of meat, including steaks. I asked him about chicken and he wanted chicken as well, but not from 
his chickens
I had to clarify. They are strictly there to have a good time.
via GIPHY
 I like the way this kid thinks and it's inspired me to think a little outside the box as well. Now what would you do with a billion dollars? (And if you bought a lottery ticket, GOOD LUCK!)