It's funny. This is actually a post I started in April of last year. We took my just-turned-3-year-old son to Walt Disney World for a week. It was a spur of the moment trip. We went with some friends and their 3 year old. We did pretty well considering the last time I went to Disney was in 1987 and for my husband, I think it was the 70s. But we made our mistakes.
Almost a year later, we booked another spur of the moment trip with our just-turned-4-year-old son to Disney. Things were a little different this time. It was just the three of us (no friends). We drove down instead of flying. And we learned from our mistakes.
I have so many friends planning their first Disney trip ever or at the very least, their first trip as parents. It's very different when you are responsible for some little people. Also, with the Disney Social Media Moms conference coming up (which, sniff, I shall not be attending), I thought it might be a good idea to let you in on some of my secrets for a (mostly) worry-free time.
When to Go
I'm so sorry. The best time has just passed. Seriously, in my mind, February is the time to go for good weather (think cool, but not cold), relatively small crowds, and little to no wait times.
February is also typically when the rates are lowest. We were able to book a vacation 3 days in advance and found it reasonable.
There were definitely still crowds but if I had to deal with a lot of people when it was more crowded, and hot, and sweaty, I think I might punch someone. Very un-Disneylike.
Where to Stay
We stayed at the Animal Kingdom Lodge for the second year in a row. I can't say enough good things about the resort: rooms, amenities, restaurants. Just absolutely gorgeous. But here's what's important:
If you can swing staying at one of the official Disney resorts, I highly recommend it. There are resorts for every budget and the one you choose depends on the type of family you are.
If you simply need a bed to sleep in, go Value. If you want some picturesque surroundings and more amenities, go Moderate. But for a real treat, go Deluxe. It's what we did. We found there was minimal price difference between Moderate and Deluxe for the dates we picked (yay us!)
Staying at the resort gets you free shuttle service anywhere in the park. The wait can be long at times but it's definitely nice to leave the driving to someone else.
You also get to take advantage of Disney Extra Magic Hours. On certain days, some parks are open earlier or later to guests of the Disney resorts. Yeah, baby. We closed Epcot down and left at midnight! We love the Extra Magic.
Take a picture of your hotel room number! You have so much going on in your brain, you might be surprised how easy it is to forget. And they do NOT print your room number on your keycard. Same goes for your parking area if you drive to the parks.
Don't pay extra for hotel amenities you won't use. We booked a standard room and we were ever-so-nicely upgraded to a savannah view. The animals are usually put away during the day and at night so unless you're in your hotel during the day instead of a park, you might not see any from your room. And there are plenty of overlooks from which to view the animals.
Managing Kids at Disney
I've never seen more ill-behaved kids and ill-behaved parents than I have at Disney. I think if they followed a few simple rules they'd have a much better time.
It's easy: give them a place to rest, give them lots of food and water, let them sleep.
Even if your kids don't typically use a stroller, bring one. It's a lot of walking even for grown-ups and unless you want to carry your 40 pound kid, give them a place to rest. It also gives you a nice place to put all your crap. And there is plenty of stroller parking throughout all the parks.
In case you didn't know, you can bring all the food and drinks you want into the park. We packed high protein snacks for all of us and brought lots of water including our own thermal travel cups filled with ice. My son literally wanted a snack every 30 minutes. And I gave it to him. I did have to force the water on him.
If your kid will sleep in the stroller, plan for some downtime if they choose to take a nap. We used this time to switch off and get on some grown-up rides! Some of the newer rides even have a single rider lane which gets you on in no time.
If you choose to take the international journey through Epcot (which is oh-so-thrilling to kids), be sure to stop by any country and get Duffy, the Kidcot bear. My son got to take the bear to every country and get a stamp on his bear. He also got to have his name written in some of the foreign languages. He also liked using it for a sword.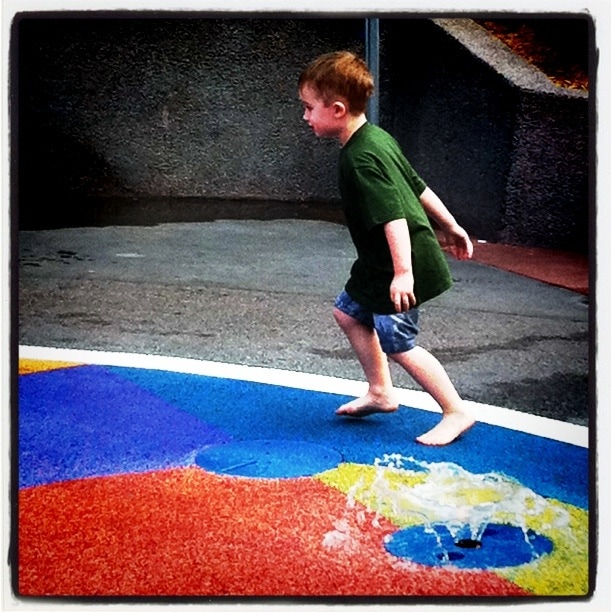 No matter what your schedule, be sure to stop and let them run around and blow off some steam. Nobody likes waiting in lines. Nobody.
The Practical Side of Things
These are the little things that you might never think of unless someone tells you. So I'm going to tell you.
Bring a hat for the whole family. It keeps your hair out of your face and the sun out of your eyes. And if you conveniently forget to bring one, you can buy a really cool one from the Star Wars exhibit.
Worried about your kids losing their hats? Don't. Because if your son leaves his hat either on the bus or the railing at Bug Thunder Mountain Railroad, Disney WILL find it. And you will be able to retrieve it from lost & found the next day. No kidding.
Make dining reservations well in advance. If you want a sitdown meal for breakfast, lunch, or dinner, you won't get it unless you have a reservation. Trust me.
Embrace mobile technology. Yes, I know you are on vacation but my iPhone was invaluable to me. We used it to text each other, call each other, and I even had free apps that had the Disney park maps, Disney ride wait times, and Disney park hours. And I took lots of pictures.
Tip: Turn off your wifi and bluetooth. You won't find either in the parks and it will run down your battery.
Learn the FASTPASS system. I could write a whole post on the complexities of this system but here's what you need to know: go to a ride, get a ticket to come back at a specific time later in the day, come back with little to no waiting at that time. If you want to go on the popular rides, this is a must. And you have to space it out accordingly. Just read all about it here and ask me if you have questions.
Be prepared to spend money on souvenirs. But not too much money. I recommend a specific dollar amount for kids. And when they spend it, it's gone. No more souvenirs. Otherwise, the requests will be endless. And parents? Make sure you know the price of what you're getting. I loved this South African wine for $25 per bottle in the gift shops. An exclusive Disney wine. Available non-exclusively online for $13.29 per bottle.
Take lots of family photos. Use the Photopass (available from any staff photographer) to capture some classic moments. Otherwise, you might have a friendly passerby take your photo and find that you are in the blurry foreground.
Also, don't buy the souvenir ride photos unless it's really awesome. Put it on your Photopass and decide later because chances are that the excitement of the ride won't be nearly as exciting when you are home and planning what to put on your mantle. (P.S. I'm not insane. I totally posed for that photo).
Make sure you capture the candid photos too. We handed our camera to the Disney staff and they snapped pictures up until we actually took our "posed" picture. I personally like this one better.
Embrace the Magic
Walt Disney wanted you to feel like you were in another world. You might as well give in to the fantasy and enjoy yourself. Here are some bits of magic you want to make sure you don't miss.
Enjoy at least one parade. All the parks have them. My favorite is the Time of Your Life parade which happens twice a day at the Magic Kingdom. That music is so darn catchy and I even found myself waving furiously at Cinderella.
Enjoy the slower activities like the safari. It gives everyone's feet a break and you get to meet the shy but stubborn okapi, who looks like a giraffe mated with a zebra (I love you, okapi!). It's actually more closely related to the giraffe.
Take time to enjoy the show. We stopped to watch a gorilla who decided to climb a triple trunk tree, push one of the trunks completely out of the way (CRACK!) and then sit his fat butt down for a snack of tree bark.
Join in the show. I got to participate in a "movie" as a ship's mechanic. They told me "whatever you do, don't look left." Thank God I didn't since I was soon to be doused with 1000 gallons of water. Seriously. We have the video.
Don't spoil it for the kids. I wish I could immerse myself as much as my son. He was so excited to meet Peter Pan and ask him if he could really fly. Disney cast members really take their jobs seriously and this Peter Pan was fully in character the whole time. I almost believed!
Finally, make sure you enjoy at least one night at Disney. There are fireworks and laser shows and electrical parades. But my favorite time was when the park was quieting down and the lighting made the buildings come to life. Not to be missed!
Wow! You made it to the end. I could have kept going and going but then I realized, they have books for that. Entire guidebooks. I'm wondering if I could get a gig writing a Disney guidebook.
In any case, these are some of my helpful, handy tips for enjoying a relaxing, tantrum-free vacation (but I make no guarantees).
Care to add any super important tips to my list?