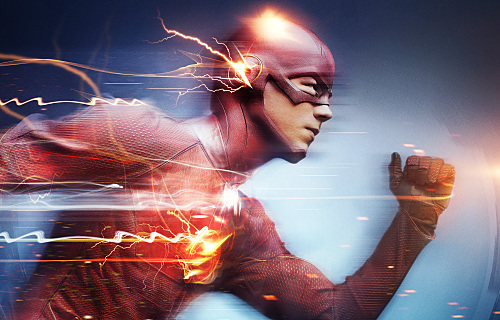 If you've never watched or heard of The Flash, I'm going to tell you why you should watch it, where you should watch it, and what you need to know to become a Flash expert.
Why You Should Watch The Flash
Let's start with the why. I am bit of a sci-fi nerd. My husband likes action movies. My 9 year old son likes all of the above. Finding something to watch in the evenings to satisfy all of us is a challenge. My husband, if given the opportunity, would watch something dark and twisted like Blacklist. I would probably choose to watch something light and twisted like Orange in the New Black. Alas, neither is kid-friendly.
One night, against my better judgment (because I'm strictly a Marvel Comics girl), we decided to try the series, "The Flash," inspired by the DC Comics superhero of the same name. It turns out it's funny, engaging, quirky, dark, light, full of action all with a sci-fi twist. More importantly, it's something that keeps us all entertained and on the edge of our seats.
Where You Should Watch The Flash
Netflix, of course. Season 1 is available for streaming but I'll caution you that right now it's the only season available on Netflix. So take your time. Savor each episode. Because when the last episode of season 1 ends, you'll be screaming for more.
What You Need to Know About The Flash
Maybe you watch superhero shows and movies or maybe you don't. Maybe you feel like you can't really enjoy it if you don't know every origin story or character biography. Maybe you just feel like you won't enjoy it if you're not a comic book nerd.
Not true. After I started and became obsessed with The Flash, I went back to read about who's who and what's what. And this is where I realized the show is inspired by DC Comics' The Flash and is not necessarily a retelling of his tales. That means anything can happen.
But just in case you want to go in with a little knowledge, here are some fun facts and important things you might want to know about "The Flash." And I promise none of these things are spoilers.
About the Show
"The Flash" originally aired on CW where it started as a spinoff of another CW show, "Arrow" inspired by DC Comics' Green Arrow.
Barry Allen is a forensic investigator with the Central City Police Department working alongside his foster father, Detective Joe West.
Barry went to live with Joe West and his daughter Iris West after his mother's death and his father's wrongful conviction for the crime.
Dr. Harrison Wells, a prominent scientist at S.T.A.R. Labs in Central City, launches a particle accelerator which malfunctions and affects various residents of the city. Those affected by the particle accelerator become known as metahumans.
After the particle accelerator accident, Barry discovers he's become the fastest man alive. The nickname "The Flash" comes later.
There's a lot more to it but that's really all you need to know to get started. But the fun comes in when you start to looks at the characters.
About the Characters
Cisco Ramon (played by Carlos Valdes) actually got his start on "Arrow." His character appeared as an engineering genius alongside Dr. Caitlin Snow (played by Danielle Panabaker) for several episodes before becoming regulars on "The Flash."
Cisco is, incidentally, my favorite character.
Barry's imprisoned father is played by actor John Wesley Shipp who actually also played The Flash in the 1990 series of the same name. I've watched it. It's terrible.
In the original 1990 series, Dr. Tina McGee, played by actress Amanda Pays, was a prominent scientist who helped Barry Allen. In the new series. Dr. McGee is back, also played by Amanda Pays, but she plays a prominent scientist working for a rival tech firm to S.T.A.R. Labs.
Mark Hamill, better known as Luke Skywalker, plays a villain named The Trickster in both the 1990 and 2014 series "The Flash." Unrelated: he also does the voice of Skips on Regular Show.
There's a supervillain in the show named Captain Cold, aka Leonard Snart, played by devilishly handsome actor Wentworth Miller. His sidekick Heatwave, aka Mick Rory, is played by actor Dominic Purcell. Coincidentally, while browsing online, I found that both starred in the series Prison Break (also on Netflix) together, also streaming on Netflix. I guess they like working with each other.
Actor Wentworth Miller, who plays Captain Cold, publicly came out as gay in 2013. Not that there's anything wrong with that.
If you fall in love with "The Flash" like I did, don't worry. There no shortage of superhero shows or movies, especially on Netflix.
And it turns out that a Marvel girl can love a DC superhero proving that there is hope for peace and harmony in the world someday.
This post was written as part of my role on the Netflix Stream Team. Topics, selections, and all opinions are my own.