So you've decided to take the plunge and get a little crazy with your haircolor. But you're wondering if you plunk down $29 for a jar of Overtone Coloring Conditioner (which I simply refer to as Overtone hair color), how long will it really last? How often will you have to use it? Does it wash out right away? Does it stay in for too long?
After using Overtone Ginger, Rose Gold for Brown Hair, Pastel Purple, and Purple for Brown Hair, I think I have enough experience to answer the question how long does Overtone last? And the sometimes more important question, how do I get it out of my hair?
Before You Apply Overtone Hair Color
If you're like me, with a combination of naturally dark hair and chemically lightened hair, you might see a combination of color. Your darker hair might show a hint while your lighter hair will show the color.
The bottom line is that you need to know your hair condition and hair color before you start. Have realistic expectations. Don't expect your dark brown hair to turn a brilliant shade of turquoise. To get truly vibrant colors, you need very light hair to begin with.
I also recommend (and so does Overtone) that you do a strand test so you can see how the color will look on your hair before you commit to your whole head.
Picking the Right Shade
As I mentioned above, you have to find the right color to work with your starting hair color and condition. I started with Overtone Ginger with a strand test. And unfortunately, I didn't strand test the lighter parts of my hair because when I did the all over application, I ended up with orange hair.
Most recently, I applied Overtone Purple for Brown Hair, knowing it would give me an all over darker shade and even color my brown roots, in addition to my blond highlights. But I was also looking forward to watching it fade to see varying shades of purple in my hair.
Applying your Overtone
Overtone Hair Color does not come with detailed instructions. But generally speaking, you want to wear old clothes and gloves. Even though this is a "temporary" color, it WILL stain… your clothes, your skin, your bathroom counters.
You can apply the color to wet or dry hair but the general consensus is that you will get a bolder color when applied to dry hair. They recommend clean, dry hair but unless you use a ton of product, you can probably just give your hair a good brushing and apply.
Leave the conditioner on your hair for 10-15 minutes, depending on what you observed with your strand test. I typically started timing it right after I finished massaging the color into all the strands. I would leave it on for 15 minutes but it doesn't hurt to leave it on longer.
I have read various accounts that say your hair has a finite amount of saturation. That means that leaving the conditioner on for 45 minutes vs. 15 minutes won't necessarily result in a color that's 3 times as bold.
Once the 15 minutes is up, I step in the shower, fully rinse the conditioner out, and then do a regular shampoo and conditioner. If your hair is clean before applying Overtone, you don't need to do a shampoo, which will actually remove some of your initial color.
I just feel more comfortable with that first shampoo so that my hair isn't as saturated.
Caring for Your Color
Once your hair has achieved maximum purple (or blue or green, etc.), you want to keep it that way for as long as possible. Here are a few tips for making your color last.
The color doesn't fade with time necessarily – just with shampooing. The more often you wash, the faster the color fades.
Be sure to use high quality shampoo with NO sulfates, which are known to fade color.
Use cooler water when rinsing your hair
Try the Overtone Daily Conditioner to help keep the color vibrant between deep conditions.
On average, I reapplied the color every two weeks (washing my hair about every other day) but you could easily do it once a week if you don't want much fading.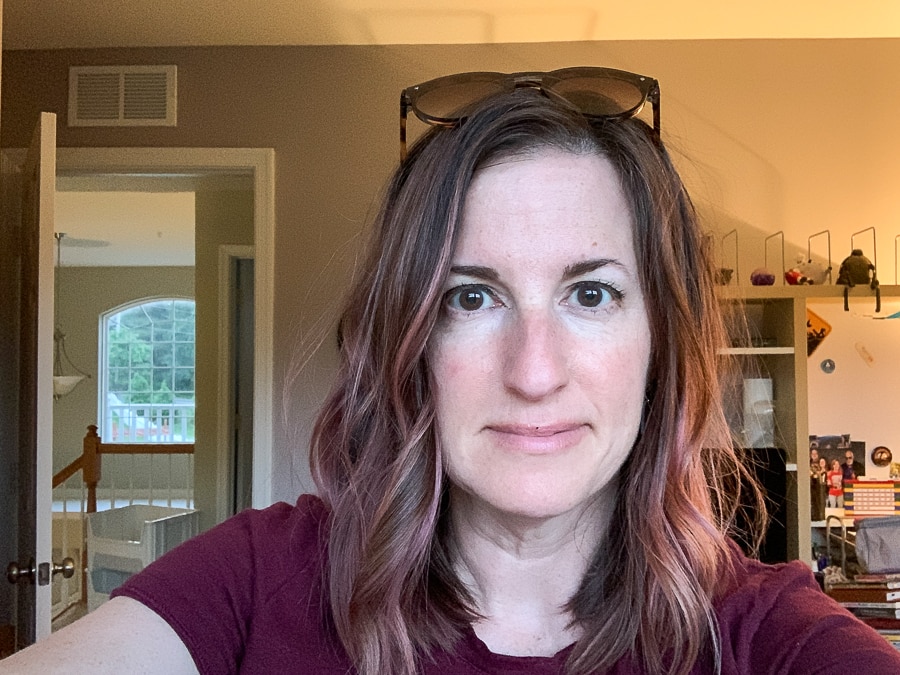 Saying Goodbye to your Overtone Hair Color
All good things must come to an end. In this case, it's your hair color. It is not meant to be a permanent color but I don't think it would be completely fair to say it's a temporary color. It will leave some color residue in your hair, even if you can't see it (see below for more on that). And it is more likely to leave residue in lighter, more porous hair.
So what do you do if you want it gone?
The easiest thing is to simply shampoo. A lot. The Overtone site recommends using clarifying shampoo. I used a Suave Daily Clarifying Shampoo and made sure I followed up with a hydrating conditioner. This will help strip and fade your temporary color. And for an extra boost, rinse in hot water.
The Overtone site also suggests using Vitamin C in your hair if you're really in a hurry to get the color out. I bought this Vitamin C powder and mixed it into my shampoo when I was desperate to get the orange (Ginger) color out of my hair. I thought it had a horrible smell and dried out my hair. And it didn't make much of a difference so I didn't use it again.
It eventually faded back to close to a normal color. If you still have a hint of the shade you're trying to get rid of, you might want to use one of the Overtone Daily Conditioners. Since you're trying to neutralize the color and not preserve it, this time, you'd want to choose a shade opposite your current color.
For example, when I was trying to get the orange out of my hair, I purchased the Overtone Pastel Blue Daily Conditioner, which helped with the overall tone.
You don't have to have all of the previous color out of your hair before trying a new one. In fact, they encourage you to mix and match and create your own unique color! And when you're done, no harm done!
See it for yourself! Video of my Overtone Fadeout
After the Overtone: A Cautionary Tale
When I started my color experiment last November, I planned to tone it a bit until it was time for my twice annual highlighting. I hated the color I chose and decided to experiment a bit. I moved to the Rose Gold for Brown and loved it! I tried the Pastel Purple and didn't love it. And then I decided to go for the pièce de resistance. I wanted purple hair.
I purchased the Purple for Brown Hair when it was finally back in stock (everyone had the same idea during the pandemic) and loved it for the full three applications I got out of the coloring conditioner jar.
As my state was starting to open up, I got an appointment with my hairdresser for a long overdue cut and color. I followed all of the steps above to get the color out of my hair. Three weeks after my last Overtone application, I visited my stylist.
I explained my color journey to her, showed off a few pictures, and we both agreed that my hair looked mostly back to normal (she could tell I had done some coloring so, for the love of God, please be honest with your stylist).
When she applied the bleach, everything seemed to be going swimmingly. And then she checked it and found out my hair was turning PINK! Apparently my virgin hair (non color treated hair) had held onto the color and it was bleeding through the bleach.
She applied some additional bleach, being careful not to damage my hair. Once she rinsed it, she applied a toner in, you guessed it, green! The idea was to neutralize the pink.
In the end, I love my hair and I don't intend to revisit the crazy colors any time soon. But if I look really closely, I can see a few hints of pink just to remind me of that time during the pandemic when I had a little fun.
Read my other Overtone posts!
I TRIED IT: Overtone Purple for Brown Hair
How to Use Overtone To Rock Your Hair: Pastel Purple
Overtone Pastel Silver – Before and After