Darrell Barrett Salon and Spa provided all complimentary treatments for me including the Vichy Shower and Hydrolifting Facial. All thoughts and opinions are my own.
What do you do when a cutting edge salon in the Baltimore area contacts you and asks if you'd like to come in an enjoy a few complimentary treatments? You respond enthusiastically with a YES!
When Jackie, one of the co-owners (along with Darrell Barrett, himself), invited me in for a conversation and consultation, I was blown away.
This unassuming salon and spa has been situated in a little shopping center in the Hunt Valley area for over two years. On the outside, it's not terribly noticeable as it's currently designated by a temporary sign. But it's location next to the Pennsylvania Dutch Market (which I'm told is THE place to go for fried foods) ensures that it gets a lot of visibility.
When I walked through the front door, I was instantly taken in by the large amount of open space. I'd soon find out why it felt so large.
After meeting with Jackie, she took me on a tour of the salon and spa. In a normal, salon, you could probably stand in one spot and point to all the different areas. But at the Darrell Barrett Salon and Spa, a walking tour was required. At over 25,000 SQUARE FEET (yes, you read that right), they have the space to offer virtually anything you could want at a salon and spa – and they do.
Services include hair (cut, color, and more – wait until you read about what I tried!), nails (with separate rooms for manicure and pedicures – yes, I tried this too), makeup, skincare, massage, body treatments, waxing (gulp! yes, you can read about this too!), and more.
In fact, when I walked in, I instantly knew that this must be a hot spot for weddings, proms, and ladies night out. Turns out I was right.
Jackie wanted me to tried it ALL and I thought that this was a good opportunity to experience things I had never tried – and bring you along with me! First stop was a day of pampering with a Vichy Shower and customized Facial.
Getting Ready for the Spa
When I arrived for my day of pampering, I was escorted to the ladies locker room where I was given a tour and asked to get ready for my first treatment.
You'll find a full service bathroom complete with a sauna and shower in a divided room. On the other side of the divided wall, you'll find robes and dressing rooms to allow you to change discreetly for your service.
Everything gets safely secured in a locker of your choice.
And you end up looking something like this. Robes, slippers, and absolutely nothing underneath. More on that below.
Once you're fully outfitted for your treatment, it's time to wait for your appointment in what I called both the Serenity Room and Tranquility Room. I'm not sure which is the proper name but both work – it's a dimly lit room with comfortable chairs, flavored water, and cookies! (Oh, yes I did).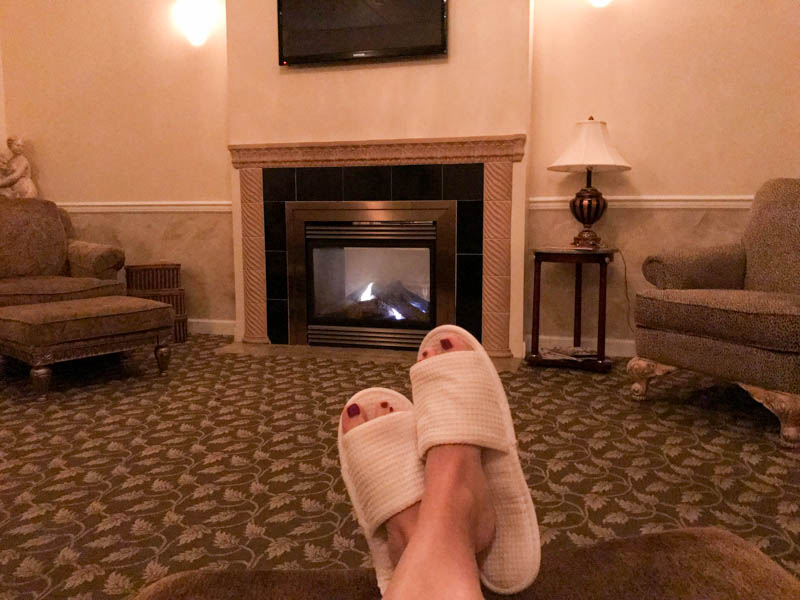 The Vichy Shower
I've tried a lot of things but I've never had a body treatment. I mean, sure, I did the whole CoolSculpting thing but that's more of a procedure than a treatment. Procedures aren't fun. Treatments are.
Now, let's answer your first question. What the heck is a Vichy Shower?
What you'll see below is the Wet Room at Darrell Barrett Salon and Spa. It looks similar to a massage table except it's surrounded by shower heads and has drainage on both the table and on the floor.
You'll also see a cutout in the table which is where your head goes for either face up or face down treatment. I had both for my body treatment.
Now let's answer your second question. What happens during a Vichy Shower?
For this treatment, Lisa, who provided the treatment, performed a salt scrub on my entire body to exfoliate and rejuvenate the skin. After rinsing thoroughly, she applied a rose mud treatment and massaged it in to my skin to have a moisturizing and firming effect. Bonus: it actually helps circulation as well.
Once the mud is applied, you're wrapped for a little bit. Now, DON'T PANIC. It's not a cocoon. It's layers placed on and around your body to help the rose mud sink in and work its magic.
And if you're worried you'll feel trapped, Lisa takes care of you by giving you a scalp massage and foot massage during this time. Ahhhhhhh.
Once final rinse and then Lisa helped me to my feet and it was back to the Tranquility Room to wait for my facial.
I know, I know. You have one more question. How, um, naked do you have to get for this?
It's a body treatment. So, yes, you get naked. But this ain't no European spa. We Americans are very modest with our bodies and there is room for modesty when you're getting a body treatment.
In fact, trying to lighten the mood, I said to Lisa, I bet you've seen it all! And she quickly responded by telling me that her background was working as a geriatric nurse. So she most certainly has seen it all and done it all.
She allowed me to take off my robe and get under the blanket once she left the room, similar to what you would do if getting a massage. Before she started, she strategically placed towels over my unmentionable areas and slid them into place as she pulled the blanket off. So, yes, there is still room for modesty while getting pampered all over.
The Hydrolifting Facial
A facial is not as uncommon and I hope you've had at least one facial in your life. In fact, they recommend you have one a few times a year to benefit your skin. While it may seem like a ruse to simply get you to come in and spend your money, continued facials will ensure your skin is properly exfoliated, extracted, and moisturized.
If you've never had a facial, you can expect to see a setup similar to this. There will be bright lights and a magnifying glass because your aesthetician is going to get up close and personal with your skin.
Lina stepped into the room and we talked about my biggest facial concerns: lines, sagging, sun damage (hello, forties!) and she recommended the Hydrolifting Facial with GMCollin products. Knowing that she's the expert, I was game with whatever she wanted to try. As long as it made me look 10 years younger.
She stepped out of the room while I changed out of my robe into what I'll call a "towelette", which is basically a towel wrap and I made my way under the covers of the chair.
My memories start to get fuzzy after the facial started. There was the cleansing in the beginning and I know there was extraction (that part is never fun – they literally extract the junk from your pores) but there were a lot of other steps including the hydrolifting mask which, much to my delight, was applied to my eyes and eyelids as well. They desperately need some lifting.
After an hour or so, I was called back into my body from whatever ethereal space I was in and released from my facial. I had the typical after-facial look but everything did eventually absorb into my skin.
Would I TRY IT again?
The Vichy Shower was just plain weird to me. But my husband and son said my skin felt AMAZING afterwards. I'd definitely do it again, probably once a quarter to rejuvenate my skin, and I'd definitely go with Lisa again. She made me feel totally comfortable.
As for the Hydrolifting Facial, there are facials and then there are FACIALS. With the wrong person, it feels like a chore. With the right person, like Lina, it's an incredibly relaxing experience with skin benefits to boot!
Want to see more of my experience? I've got video for you!