This post is sponsored by Google and I'm being compensated as part of the Forward Influence Network.
We talk a lot about screen time with our kids but maybe the whole family needs a screen timeout.
Last week, I had an eye-opening experience when it comes to my own digital wellbeing. It started with an hour at the nail salon.
I went in for some relaxation and to splurge on my first pedicure all year (figures I'd wait until September). As my appointment was nearing an end, I realized that I hadn't looked up from my phone at all. I barely made eye contact with my nail technician. So I put my phone down and then my eyes went immediately to the television screens showing Chip and Joanna all throughout the salon.
Later in the evening, I was spending time with Evan, my 12 year old son. We watched a movie and then found ourselves drawn to our phones and video games and I sensed that he was feeling a bit off. I was grumpy and tired and went upstairs and remembered my experience at the salon earlier in the day.
"Evan," I yelled down. "Want to come up to my room and play some cards?"
He reluctantly shut off his game, grabbed a pack of playing cards, and walked into my room. We started with a game of War (I won) and then I refreshed his memory on one of my favorite card games, Spit (also called Speed). And before I knew it, he was laughing and begging to play one more game with me.
That's when I started to question my "screen time." I wake up and grab my phone and then get to work at my computer. I sit down in the evening to watch tv. And while I'm doing that, I usually have my phone or my laptop nearby. I'm trying to do better at finding balance.
Finding Balance in Technology
While I love technology, balance is EVERYTHING. And it's hard to achieve (or even know what it looks like) when we live in a world that's so dependent on digital connections – to people, to entertainment, to knowledge, to work.
Google wants to help families with their own digital wellbeing by offering tools that not only help you assess what your daily digital experience looks like but also give you advice on how to better find that balance.
At wellbeing. google, you can start by assessing what your digital experience currently looks like. And after stepping through some of these questions, I'm pretty sure someone has been watching me. Because my answers aren't pretty. I'm sharing a few below so you know you're not alone.
You get the idea, right? Well, awareness is the first step to creating balance. And Google's wellbeing tools offer you tips, resources, and even product features for things you probably already own that can help you better manage your digital life.
Digital Wellbeing Tools from Google
Although the site talks a lot about tools available on native Google apps and devices, the concepts are sound for almost any type of technology you're using. For example…
What does your screen time look like?
Android phones have a option called Digital Wellbeing & parental controls but you can find something similar on other phones as well. It looks something like this:
I checked my own settings and found that I spent most of my screen time on social networking followed by games and other activities (like browsing or reading).
Okay. The cat's out of the bag. I spend a lot of time on Facebook and Instagram. And I do like to play Toon Blast (just don't tell anyone, it's embarrassing). But if I'm lacking in self-control, I can schedule downtime or set limits for apps that tend to "waste my time."
Guess how else I spend my time? YouTube. Now I don't watch gaming videos like every 12 year old out there. I get sucked into all the "10 Celebrities Who Hate Pizza" type videos. But unless I fall into a rabbit hole, it's mostly manageable for me.
If YouTube viewing is an issue in your house, be sure to check the data to see if it's as big a problem as you think. You can also have your kids check their own time so they know when enough is enough.
(While you're at it, be sure to check our Google's Be Internet Awesome initiative.)
Other Tips and Tools
Other suggestions include:
Turn off your notifications so you won't be tempted to grab your phone every time someone like your picture on Instagram. Bonus: Turning off notifications helps conserve your battery life too!
Take advantage of Do Not Disturb mode on your device
Designate times of your day or spaces in your home to be device-free (like at the dinner table or while watching a movie)
Set your phone to Grayscale so it's not as appealing
Put apps in folders so they aren't so IN YOUR FACE
I actually love that Google is taking the lead on this. Everywhere I go (airport, waiting room, nail salon, ahem) people constantly have their faces in their devices and I worry that they are missing out on so much, myself included.
Who's Modeling Who When It Comes to Screen Time?
I sat my son down to walk through the same Digital Experience assessment tool I used and it turns out I am more connected to my devices than he is. Granted, I have work that follows me around wherever I go but I definitely need more balance than he does (except when it comes to YouTube).
If you're wondering where to even begin the conversation with your family, Google has created a Digital Wellbeing Family Guide which you can download by clicking the image below.
You can also make it a family activity to print out a poster called "Our family's digital wellbeing plan." Together you can all agree on your device rules – when to turn them on and when to turn them off.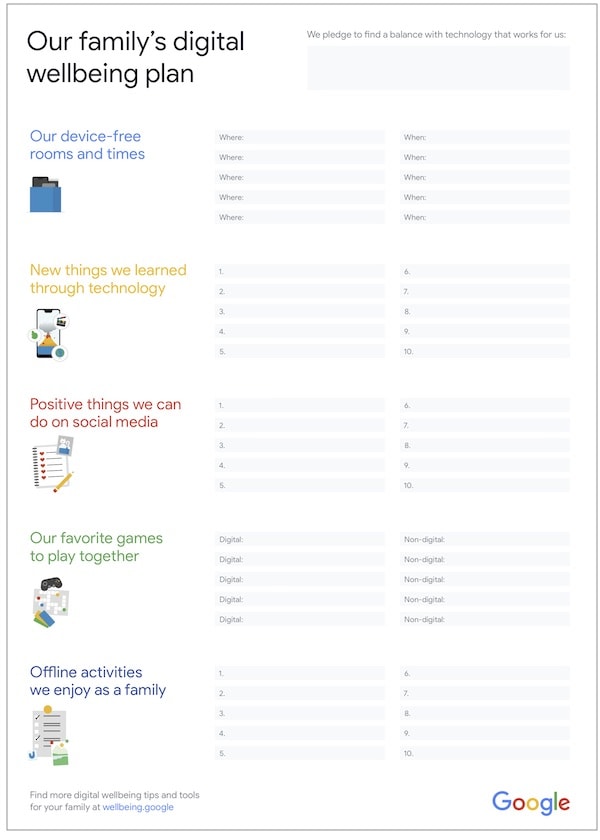 Because I found that when I get my head out of my screen (phone, laptop, and even TV), things happen. We talk more. We play cards. We even… GO OUTSIDE!
(Check out the free ebook called Be Out There which includes my contributions to the section on balancing screen time and green time! )
To discover more tips and tools, visit wellbeing.google to find a balance with technology that feels right for the whole family.