On Location Tours provided complimentary tour tickets for me and my son. This post contains affiliate links. Thanks for supporting this site!
Looking for something unusual to do in New York City? The Super Tour NYC treats entertainment fans to the most iconic filming locations for superhero TV and movies!
On Location Tours offer a variety of tours that include a combination of walking and bus transportation. You're whisked to various parts of New York City to see the filming locations of some of your favorite TV and movie scenes. Some of their offerings include locations from The Sopranos, Gossip Girl, Sex and the City, or more generic tours like TCM Classic Film Tour or the East Village Walking Tour.
But when my Stinger Universe cohort, Shannon, suggested we take a tour together, we knew there was just one tour for us to geek out over together – the Super Tour NYC which covers everything from midtown to lower Manhattan. If it's been featured prominently in a superhero TV show or movie, you'll probably see it on this tour.
Take this tour to see where your favorite comic book heroes from The Avengers, Spider-Man, Batman, Superman, Jessica Jones and more saved the day. This is a one-of-a-kind experience for comic book lovers, young and old. Whether you're a Comic-Con regular or a casual fan, this tour will give you a behind-the-scenes look at many of the most amazing, fantastic, and incredible adventures on screen and from the comics.

On this guided sightseeing bus tour you will see over 40 NYC locations featured in your favorite super-powered TV shows and movies, all from the comfort of an indoor bus with AC in the summer and heat in the winter. So put on your capes and grab your shield as your tour guide leads you through the most filmed city in the world. This bus tour will run faster than a speeding bullet every Friday and Saturday at noon.
Starting the Super Tour at Midtown Comics
We booked our tour for Friday at noon (the tour runs at this time on Friday, Saturday, and Monday each week) and arrived into the city early. The meeting place is Midtown Comics on West 40th Street. Getting there early is a good idea since it allows you to check in and receive a 20% discount to use on everything in the store.
Feel free to do your shopping in advance since you won't be returning to this location at the end of the day. And you'll also be able to leave your items on the bus during the tour. Even if you don't leave time for shopping, you can hold onto your coupon to use it later in the day or even at another location.
After checking in, you'll be told to meet just outside the store in a rather long queue. I'm not sure how many people are typically booked per tour but I'd estimate that we had at least 50 people on this tour.
Pro tip: If you need to go to the restroom before the tour, hit the McDonald's right around the corner. There's a bathroom downstairs for paying customers but you can breeze past them to the upstairs bathroom,
Jason, our tour guide, introduced himself and told us to follow his lead as he held Mjölnir above his head through the crowds. If you're not Marvel-savvy enough to know this is the name of Thor's hammer, you can usually spot him since he's wearing a Super Tours t-shirt and red cape.
Major Stops on the Super Tour
We walked a few blocks from the comics store to Times Square where the tour officially began. Jason pointed out some of the more prominent buildings there – like the old Paramount building with a ball on top that became the inspiration for the Daily Planet in Superman (1978).
From there, we boarded a bus to start our official tour of the city. We had air conditioning (much needed on this record-breaking day), a place to sit, and a place to store our things, if needed. But the best part of the bus was the small screens throughout.
While Jason was preparing us for the next location, he played related clips from TV and movies. This way, I didn't have to rely on my memory for films going back over 40 years!
We watched a clip from the original Superman movie and were reminded of Clark Kent (Christopher Reeve) and Lois Lane (Margot Kidder) walking through the lobby of their newspaper employer, The Daily Planet. We see a giant globe of the earth behind them and, sure enough, we visited the former New York Daily News building, which houses this globe.
Other places we visited included Washington Square, which is home to one of the early scenes of Avengers: Infinity War. Tony (Iron Man) and Bruce (Hulk) are getting defeated by Thanos' team while Bruce tries to coax Hulk to come out and play.
And we made a stop in the Financial District. Here, we were given a choice to follow Jason to Wall Street or to venture off on our own to Trinity Church across the street. Although the Trinity cemetery is the location where Miles Morales from Into the Spider-Verse paid his respects to Peter Parker, I actually went to see the grave of Alexander Hamilton and his wife Eliza Schuyler. Not exactly superheroes in the comic book sense but something I've always wanted to do!
After viewing the cemetery, we still had time to had across the street and check out Wall Street and the front of the New York Stock Exchange building.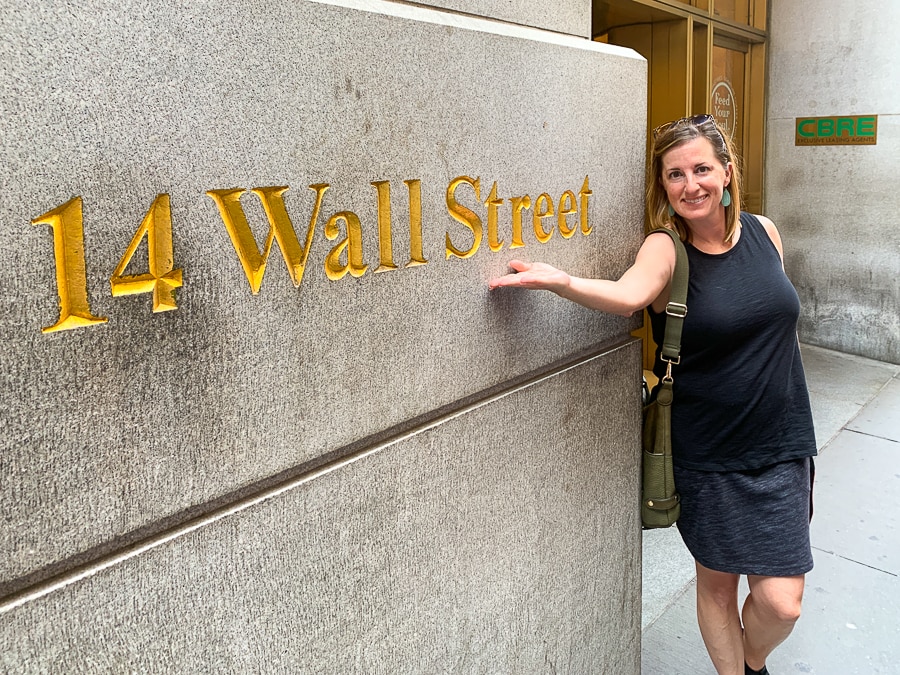 Drive By Touring!
We watched TV and movie clips throughout our entire time on the bus which made it fun to relate what we were seeing in person to what we've seen on the big screen. And if we were stuck in a bit of traffic, it kept us more than occupied.
Even though the tour is three hours, there's still a lot that you can't stop and see. There just isn't time or it would be too difficult logistically. For these sights, we did a drive by tour. We saw a cafe used in a movie near Grand Central Terminal. And we saw the courthouse that's used not only for every. single. court scene on TV but it's also used at least twice in Gotham.
But my favorite thing to see was the MetLife building. Why? Because Jason let us know that this is actually the Avengers Tower (or Stark Tower) in disguise! The lower half was kept for the Avengers movies but the rest of the tower is actually photoshopped onto the MetLife building.
Concluding the Super Tour
This tour is a one way journey and the last stop is Battery Park. From here, you can see the Statue of Liberty which is used is almost every NYC movie. Jason concluded the tour and pointed us in whatever direction we needed.
We ended up walking around Battery Park taking in a few sights before I convinced Shannon and our kids that we could brave the NYC subway to get back to Times Square (bonus: it's so much cheaper than a cab!).
Overall, we enjoyed the afternoon. Jason is fun and enthusiastic and he's not just a tour guide for superhero lovers; he IS a superhero lover! We wished we had more stops but even with the drive-by touring, the tour goes by very quickly. I don't see how they could fit more in unless they made it a really long tour.
The only change I'd like to see is for smaller group tours. I wouldn't mind going longer, walking further, seeing more but it would only make sense with a smaller more manageable tour group size.
As is, I'd recommend this tour for movie and TV fans, especially of the superhero genre. Although there is some walking, it's suitable for families. While the younger kids might not get it, kids 10 and up will probably think it's a cool way to see and relate to the city.
What You Need to Know about the Super Tour NYC
The Super Tour NYC takes place at 12pm on Friday, Saturday, and Monday.
Buy your tickets in advance to reserve your spot.
Current tour prices are $56 for adults, $40 for children (ages 6-9)
Check in early and browse around at Midtown Comics.
No food or drink is available on the tour but you can bring your own with you on the bus. There are also a few stops where you can purchase refreshments from local vendors.
This 3 hour tour starts at Midtown Comics (near Times Square) and ends at Battery Park. You're responsible for your own transportation from there.
Wear your favorite superhero shirt. It's only fitting!
Buy your tickets for the Super Tour NYC or any of the On Location Tours here! And if you're looking for more things to do with your kids in New York City, be sure to check out my post on that!
Super Tour NYC Video Review!