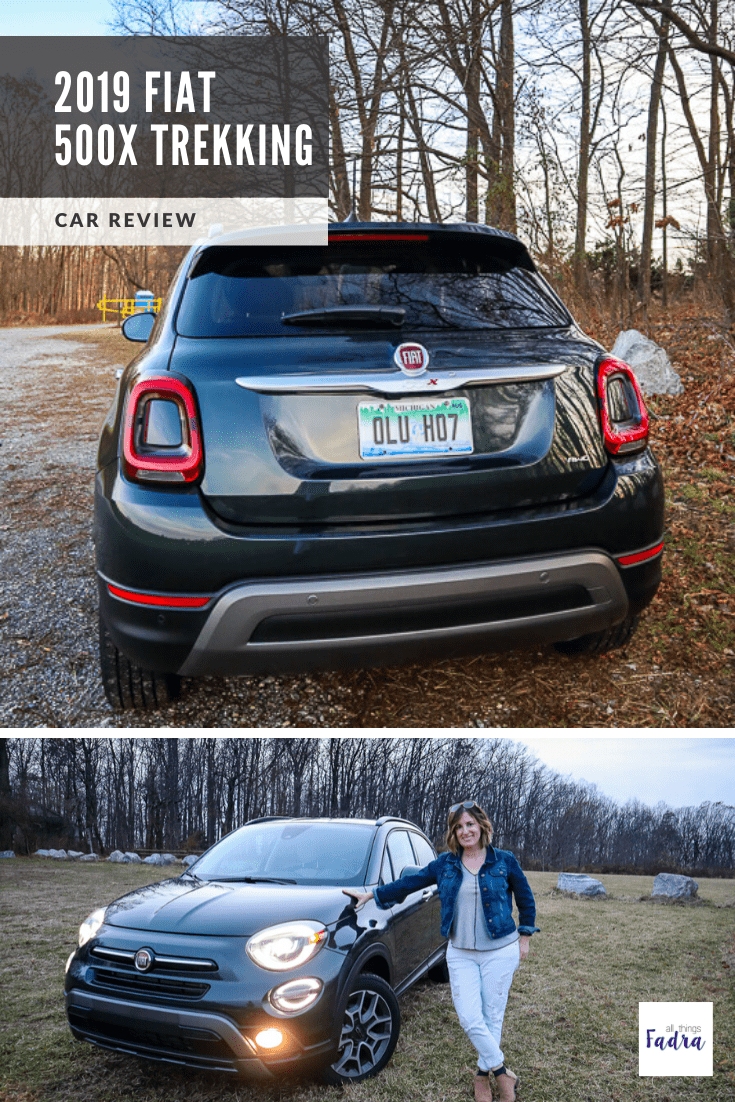 If you're here, it's because you're probably looking at as many 2019 Fiat 500X Trekking reviews that you can find. And good for you for doing your due diligence. This review is an example of why a review is so much more important than just a test drive.
A few months ago, I was invited up to New York City to catch a glimpse of the designed Fiat 500X. The focus was on the engine – the new 1.5L Turbo engine that put out more horsepower and even more torque. Then we took it for a short drive along the Hudson River, had a lovely lunch in Newburgh, and headed back to NYC.
My impressions were that it was a fine car. A decent car. But nothing terribly memorable and nothing to get too excited over. Hey, I'm all about honesty in my reviews!
When Fiat reached out and asked if I'd like to do a week long test drive and review of the 2019 Fiat 500X Trekking, I thought casually, "okay, sure." And I couldn't imagine what I'd discover that would really change anything.
It turns out that this is an extremely fun car to drive and much more versatile that I thought. I had a chance to put it to the test in some real life scenarios and then have a little fun with it on my video review. So buckle up and enjoy my all-new for 2019 opinion of the Fiat 500X Trekking.
A Little Fiat Background on Fiat
Fiat is a pretty standard, well-known name… in Europe. Fiat, an Italian automaker has actually been in the auto industry is some shape or form since 1899. And you may remember some Fiats in the United States until they pulled out altogether.
In 1983, Fiat left the United States car market with a reputation for poor quality cars in North America, mostly rust and poor reliability.[43] In January 2009, the Fiat Group acquired a 20% stake in US automaker Chrysler LLC.[44] The deal saw the return of the Fiat brand to North America after a 25-year absence.

Wikipedia
Fiat re-emerged with the Fiat 500, a cute and distinctly European car. But it's a small car. Really small. And in the U.S., bigger is usually better (or at least more popular with consumers). So the Fiat 500X was born and introduced in 2014.
This bigger, taller, beefier compact crossover began production in 2014 and released its first model year in 2016. In fact, I was able to head out to Beverly Hills to experience the Fiat 500X for a press introduction four years ago. It was a fun trip and a fun car but not terribly memorable.
I know, I know. It sounds like I'm a bad auto blogger. But I'm setting you up for the punchline. Because my week in the Fiat 500X made it extremely memorable and I really love this adorable compact crossover.
Making a Compact Crossover Work as a Family Car
Let me start by saying that this vehicle is not as small as you think. I drive a Mazda CX-5 and although the cargo space is definitely smaller by comparison, the interior feels very much like a compact SUV. You sit up high like an SUV making for easy entry and exit. But my family also needed a vote on how this car might practically work.
We had planned a weekend trip to National Harbor and wondered if we'd be able to fit three people and three bags and still feel comfortable. It did require some reconfiguration but we made it work!
It was a short trip but we had everything we needed – ample leg room and head room, USB connections, heated seats, Apple CarPlay, and a highly responsive engine. More on that below.
The Best of the Fiat 500X Trekking (and a Little Room for Improvement)
I had so much fun in my Fiat 500X that I was disappointed when it was time for it to go home. And it made me rethink what I want in my next car (hint: it starts with a p- and ends in -erformance). I was pleasantly surprised by so much in this car.
On the Outside
Let's start with the Vibrante Green metallic paint – totally the color I would pick. And the color is an important choice. It's carried into the insert of the taillights and is even incorporated into the dashboard.
Let's talk wheels. This model was upgraded from the starts 17-inch silver aluminum wheels to the 18-in Matte Anthracite aluminum wheels with all-season performance tires. Bigger is better in my book and the handling was pretty amazing. Go for the upgrade on this if you can.
This model also added roof rails and LED projector headlamps which are not only functional but improve the overal aesthetics.
On the Inside
On the inside, you'll find a compact and simplified driving setup. This trim had manually adjustable seats and while it took a little while to get fully comfortable in the seat, I was set once I had the positioning correct.
Although there is a 7-inch color display, the rest of the interior feels relatively low tech and that's okay. This car is about the driving experience and have simple knobs to control climate and buttons to manage the start-stop engine made this a car with a relatively low learning curve.
Although I'm normally a fan of leather seats, the premium quilted cloth seats were comfortable and kept me warm when needed!
All in all, it was a comfortable cabin, easy to manage, and fun to drive. My passengers all fit comfortably and there was nothing that was truly lacking. But there was a little room for improvement. More on that below.
Under the Hood
Ultimately, what makes this car so special is that you have the feel and versatility of a small SUV that can still perform.
New this year is the 1.3L turbo engine. It offers an improvement in horsepower (177 hp) but more significantly in torque (up from 172 to 210 lb-ft) of torque. That's a 35% increase in torque. If you're not familiar with torque, I like to describe it as the "zippiness" of the car. It also makes it really fun to drive.
Room for Improvement
I feel I would be remiss if I didn't point out some of the things that have room for improvement. Most are relatively minor but worth pointing out if you're seriously considering a Fiat 500X.
Let's start with the obvious. The cargo space is small by design. I don't have any issue with that. On some models the lower platform of the cargo space can be lowered for a deeper storage area. In my model, I had a optional spare tire under there. Your choices are potentially more cargo space or a spare tire. That's a tough call.
My next issue could have been just a fluke with my vehicle. When I went to raise the hood and prop it up (which was difficult for someone as short as me), I could NOT get the stick back down without significant force and help from my son.
And finally, my chief complaint is that little 7-inch display. I don't need a large screen television on my vehicle but when I was using Apple CarPlay, only a small amount of the screen displayed the contents. There was at least 1/2 inch of wasted screen space all the way around.
Overall, my complaints were minor and I enjoyed my week in the Fiat 500X. If I could fit my daily life in to a smaller vehicle, it would definitely make my short list.
MSRP on the model shown here was $31,755. Observed gas mileage was 24 mpg.
My Video Review of the 2019 Fiat 500X Trekking
Want to see more? Here's a complete video review of the 2019 Fiat 500X Trekking.