I was hosted for this entire stay by the Huntingdon County Visitors Bureau to experience the Winter Fireplace Getaways.
The Raystown Lake region in central Pennsylvania offers new Winter Fireplace Getaways and they're perfect for people exactly like me. And if you're like me, they might be perfect for you too.
When it comes to winter travel, I find that there are two kinds people: those that hibernate and those that like to ski. I've skied before. It's been a few decades and I'm mostly okay with that. I don't necessarily love being out in the cold and I don't need that rush of adrenaline. I'm perfectly happy to snuggle into a cozy sweater and sit by the fireplace. Until…
I get bored.
After the rush of the holidays, it can be a bit of a letdown to just sit home, especially if you normally like to travel. It's always a struggle to find things to do in the winter that won't make you cold and miserable. And if you're like me, you just might love Winter Fireplace Getaways in the Raystown Lake Region.
Although I technically had a chance to experience one of these winter getaways in the fall (it was mid-November), it was actually snowing on my drive into Pennsylvania so I feel like I got the complete experience! Here's how I spent two nights exploring the Raystown Lake region (a place that I fell in love with during warmer weather too!).
What's a Winter Fireplace Getaway?
Think of a package deal for you and your friends or family that makes it fun and affordable to plan a winter getaway with minimal thinking! That's what Winter Fireplace Getaways program is all about.
With a group of 8 to 20 people, plan your stay at one of the nine participating lodges, inns, and retreats in the Raystown Lake region during January, February, or March. Once your stay is booked, pick an experience for your entire group free of charge with your stay!
These experiences are local and unique to the Raystown Lake region and are often typically available during the warmer months only. Other experiences are new and have been created just for the Winter Fireplace Getaways program!
I got to experience a taste of everything. I'll show you some of my favorite aspects of these winter getaways and share my dream getaway, you know, if you happen to be putting together a group and want to invite me along.
Where Do You Stay?
These winter getaways start at one of nine different accommodations in the area and there's something for every preference and budget.
Our hosted group stayed at the Edgewater Inn & Riverside Grill. I had a chance to dine here last year and tour the grounds (it is an amazing wedding venue!). Situated right along a branch of the Juniata River, the inn hosts 20 private rooms, each with their own bathroom. Full breakfast is included and served every morning and there a restaurant on the first floor so you don't have to ever venture out if you don't want!
We also had the chance to tour Lane's Pine Lodge, which can accommodate up to 20 people in your own private lodge. It's large kitchen and living area is perfecting for communing with a large family (think reunion!) or group retreats. The large property has both wooded and open space for those that do want to venture outside. Maybe snowshoeing or cross country skiing?
And just over the hill, you'll find Lane's Country Homestead, an historic farm house built in the 18th century and recently restored in colonial fashion. It's perfect for families (or close groups) up to 10 people.
And if you need anything during your stay at either place, owner Lydia Lane is right next door (she also makes an awesome gingerbread cake!).
If you're looking for something a little more modern, you might want to consider Rustic Ridge Retreat, a beautifully constructed and decorated cabin on a mountaintop. Yep, you have to drive up a mountain to get there but we're assured that roads are quite manageable in the winter. And it's absolutely gorgeous inside. It can accommodate up to 8 people and would be perfect for a family winter getaway.
What Do You Do in Raystown in Winter?
Once your accommodations are booked, it's time to pick your experience! And you have the very tough choice of deciding whether to go out or stay in.
If you want to go out…
You can pick one of the Venturing Experiences for you and your group:
Isett Heritage Museum houses the area's largest collection of antiques and memorabilia from the 1800s to present day. I haven't visited this incredibly huge museum yet but I hear it's impressive!
Lincoln Caverns is another local treasure that I had a chance to explore in great detail last fall. A tour of Lincoln Caverns and Whisper Rocks will take you through winding passageways and splendid rooms filled with massive flowstones, thousands of delicate stalactites, pure white calcite and sparkling crystal. And BONUS – in winter, the 50+ degree temperature in the caverns will feel warm!
Swigart Museum was actually the experience I chose. It's America's oldest antique automobile museum so how could I say no! This auto collection features a Tin Goose Tucker, Herbie the Love Bug, a DeLorean, and even some really cool collectibles.
If you want to stay in…
If you're totally a snuggle by the fire kind of person in winter, let the experience come to you! You can pick one of the following Lodge Experiences for you and your group:
Coffee Cupping is like beer or wine tasting – but with coffee! I am totally not a coffee drinker but after learning about the different types of beans and roasting and brewing, I feel like I could be an amateur barista. And it turns out, dark roasted coffee made in the pour over method just might be my jam. This experience was brought to us by local popular coffee shop, Standing Stone Coffee Company, located in downtown Huntingdon.
Painting Class with Rebecca Reck of Bluebird Designs is another option. If you're planning a girlfriend getaway, sipping and painting might be what you're looking for. Rebecca met with the group and she would clearly be a lot of fun for a painting class.
Cake Decorating is another option for an lodge experience. Dive into a Buttercream Cake Workshop with Sweethearts Confectionery, where you'll learn the basic steps of cake decorating. Bonus: there will be cake eating at the end of this class!
Kind Yoga is perfect if your winter getaway is designed to be a relaxation retreat. Experienced instructor Tracy Lake will teach you the basic tenets and benefits of Kind Yoga.
What Else Is There in the Raystown Lake Region?
The heart of the Raystown Lake Region is, of course, Raystown Lake. And if you don't mind a short hike in the cold, you'll definitely want to take in the view at Hawn's Overlook. About 300 yards from the parking lot is a view that is worth taking in.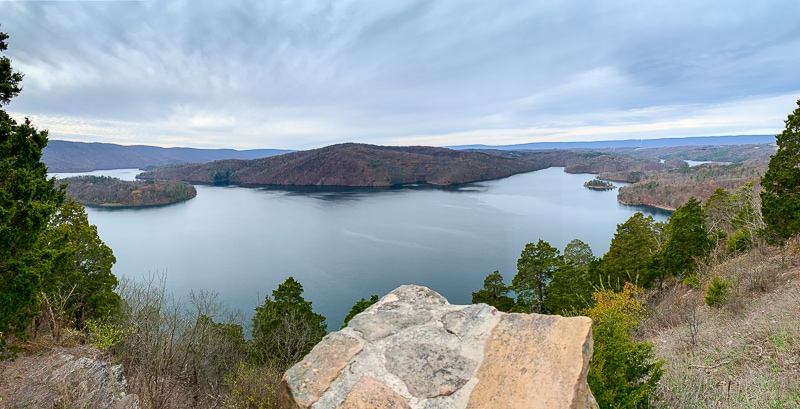 If you're interested in staying at lower elevations, head into downtown Huntingdon. There you'll find shops and cafes and delicious places to eat.
For a fancy dinner out, I recommend stopping by the newly reopened Three Twelve Kitchen (formerly Mimi's). The drinks are great and the food is even better. I highly recommend trying the crabcakes meal. There were no leftovers that night!
If you're looking for something more casual, check out Boxer's, aptly named for the dog. Come for the sandwiches, stay for the huge beer selection, and enjoy the unique atmosphere of this local favorite.
And don't forget to try dinner at the Riverside Grill. If you're staying at the Edgewater Inn, you just need to go to the first floor. But it's open to all dinner guests most nights. And it was one of my favorite meals!
---
Although Raystown Lake is a popular area in summer, especially for the lake crowd or for outdoor enthusiasts, you can still plan a winter getaway with indoor activities or even do a little hiking or mountain biking (fat biking, I'm told is a thing) if you're an outdoor enthusiast.
Questions about Raystown Lake area? Let me know and I'm happy to share more about this hidden gem nestled in the Allegheny Mountains,