The 2021 Jeep Grand Cherokee L is the large(r) and in charge SUV that will appeal to the Yukon and Tahoe crowd – but with a lot more style. Starting at just over $39,000, it can be a veritable bargain compared to the starting prices of the Chevy Suburban and GMC Yukon – both over $50,000.
But don't be fooled because if you're looking for a large family vehicle, you might want as many bells and whistles as you can get. And this Jeep Grand Cherokee L Summit Reserve that I spent the week in comes in right around $66,000.
If you're interested in the Jeep Grand Cherokee L, you can probably find a nice compromise somewhere in the middle if that price is a touch too high. But here are other things to consider. Like… what's in a name? And what makes this Jeep special?
Differentiating the Jeep Grand Cherokee L
Although this isn't a comparison post, it should be noted that the "L" in the name makes this a different model than the Grand Cherokee. It's longer, coming in at 204.9 inches (vs 189.8). That allows for two rows as opposed to the standard two.
That means Jeep has officially entered the full size SUV space offering 7 passenger seating and a family friendly interior while still maintaining the off road capabilities Jeep owners have come to expect.
The Jeep Grand Cherokee L is available in multiple trim levels which varies by price and features. My ride for the week was the Summit Reserve trim, only available in 4×4.
Spoiler alert: I did not take this beautiful vehicle off road but other reviews have attested to its capabilities. Instead, I'll be focused on some of my favorite features, what needs a little work, and how it feels behind the wheel.
MORE: Read all my Jeep reviews here
What's on the Outside
It's got an elegant exterior that's a bit boxy by design. I happen to love boxy so it appealed to me immediately. But it's a upscale Jeep as it also matches the style of other luxury vehicles like the Infiniti QX60.
This one sports a Bright White clearcoat but notice the roof? That's a black clearcoat. The two tone look is only available on the Summit Reserve. I think it sharpens that exterior look.
Other trims provide 20 inch wheels but the Summit Reserve upgrades you to 21 inch aluminum wheels. My only complaint here is the square wheel wells, something I'm generally not a fan of.
From the front, it's easy to distinguish as a Jeep. From the rear, it's easy to distinguish it as a member of the Grand Cherokee family.
What's on the Inside
This is where this SUV shines. The Summit Reserve has captain's chairs in the second row providing total seating for six passengers (bench seating is available if you're looking for seven passenger seating). And each seat as been designed with a purpose. The interior is roomy, well-appointed, and full of conveniences.
The outstanding features are numerous and make this a vehicle to remember. Here are a few of my favorites:
Luxury interior touches like stitching on the dashboard, Palermo leather seats (shown in Tupelo) and real wood trim throughout
19 speaker sound system from McIntosh. Haven't heard of them? That's because they're typically busy designed sound systems for luxury homes
Connectivity throughout the cabin. USB and charging ports are available in all three rows and the front boasts an optional Qi wireless charging pad and wireless Apple CarPlay
Massaging seats. Yes, you read that right. Available for driver and passenger and it's something I used every time I got behind the wheel. Every. Time.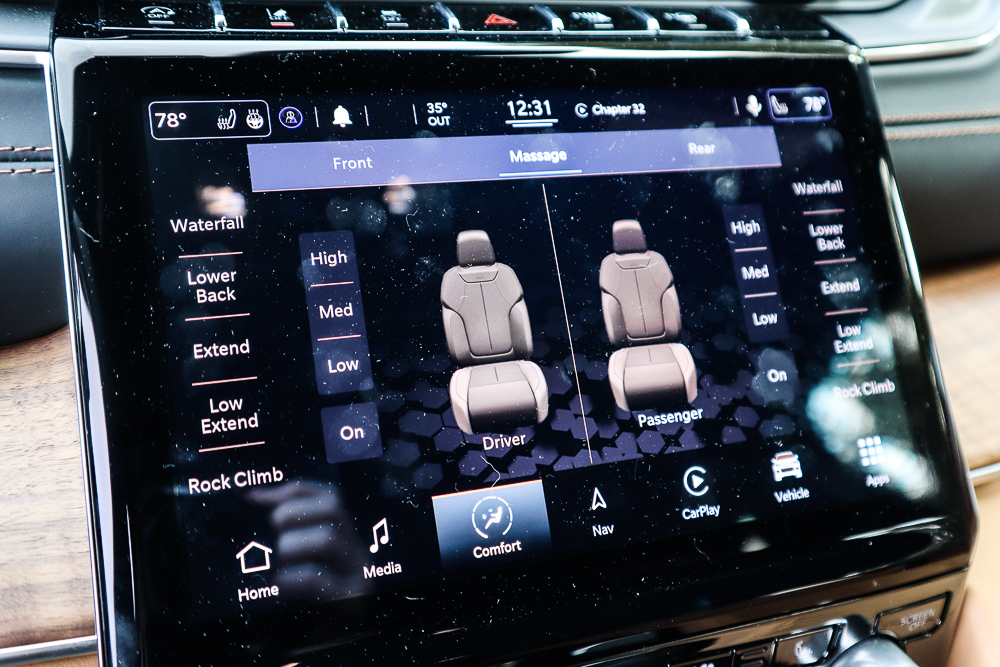 FamCam gives you the option to see everything that's going on back there without them ever even knowing.
Night Vision! This was one of my favorite features and I think every vehicle should have this. It uses thermal technology to detect and alert you to both pedestrians and animals that are close by.
My only real complaint with the interior was that the sizing seemed a little disproportional for someone as small as I am. The spacing between the steering wheel and stalk, as well as the paddle shifters, was definitely meant for larger hands.
But how does it drive?
Glad you asked! This version comes equipped with a 3.6L V6 engine putting out 290 hp and 257 lb-ft of torque. I was a little worried about it feeling a tad underpowered, since a V8 is also available.
Not so, my friend. It has the power to move and quickly! But it rides heavy. That means that it takes a little work to maneuver it and a little extra time involved for braking from high speeds. I did also find that the shift point is a little late. That may be by design but I did worry that it was stressing the engine at times.
It's fast and it's fun and it's capable. Everything a family wants in a vehicle and especially what the driver wants. It'll cost you in fuel though. The EPA estimate for fuel economy is 18/25 with an average of 21 mpg. Not that bad considering the fuel economy of competitors. And it doesn't need premium fuel!
Video Review of the 2021 Jeep Grand Cherokee L
Need to see more of the Jeep Grand Cherokee L? Here's a complete and detailed tour of everything I mentioned above!