When I met my husband, we honestly didn't have much in common. He was tall; I was short. He liked super spicy foods; I thought salt was a pretty neat spice. He liked riding motorcycles at excessive speeds; I liked driving conservatively in my mid-sized sedan.
We did, however, have the same sense of humor and we both shared a love of cars. Almost fourteen years later, I'm starting to thing that's the secret to success: humor and cars.
One of the first rules of marriage he laid down was that I would never again buy a used car. He felt that newer was better because you not only got the manufacturer's warranty but you also knew exactly how the car had been taken care of. He got no arguments from me.
So we traded in my mid-sized sedan for a small SUV, then traded it for a larger SUV, then traded it for a crossover vehicle. Now guess where we are? Back to a mid-sized sedan. I finally realized that our little family of three didn't need much more and gas mileage was starting to become more important.
I love my sedan. Sometimes I long for a big, hulking SUV, but I love the freedom of zipping around in my fully loaded sedan. That's right. After reaching a certain age, I require luxuries like heated seats, power moonroof, in-dash navigation, satellite radio, none of which the 2014 Kia Forte LX had.
That was pretty much my first reaction upon entering the Kia Forte.
Um, there must be some mistake. I require luxury and I'm not seeing it.
But the Kia was mine for the week and I thought I'd make the best of it.
Here's what I learned.
I don't need in-dash navigation. 
Yes, I know plenty of people out there use their iPhone and Google maps for their GPS purposes. And it turns out that it actually works pretty well.
I didn't really miss the moonroof.
That could have something to do with the fact that it's been pretty cold and the sun has been hiding behind layers of gray clouds. Generally I like the extra light that a moonroof provides but like the navigation, I didn't really miss it.
There's still decent radio out there.
I actually don't listen to the radio much but because it was already programmed, I ended up tuning in to some of the local FM stations. I was kicking out the jams old school style. And when I wasn't, I enjoyed the convenience of the USB port so I could keep listening to the BEST AUDIOBOOK EVER.*
Fabric seats don't need much heating.
The Kia Forte had standard fabric and I found that I quite enjoyed it. Even in the middle of freezing cold weather, I generated enough, um, natural heat to get the seats warmed pretty quickly.
So I learned that I like luxury but I don't really require luxury. In fact, by the end of the week, I felt more like a college girl with her first sedan zipping around town. I even played around on the ice a little to make sure the anti-lock brakes were doing their job (they were). I considered doing donuts in the parking lot but wasn't really sure what kind of liability I was covered for and safely returned the car to my driveway.
I will say that I did really miss my navigation, mainly because I'm so used to the visual it provides me. And I really missed the lumbar support in the seats, unless I simply couldn't find it. But overall? It was a fun to drive car that got extremely good gas mileage all under the tender price of $20,000.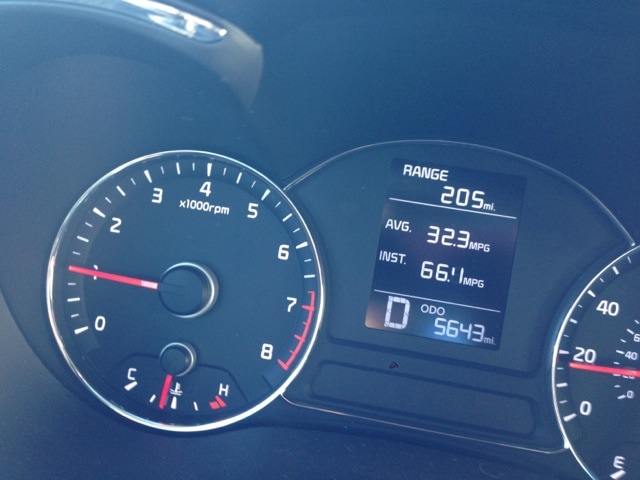 To be completely fair, though, I was driving the LX trim. If you're looking for under $20k and can live without life's little luxuries, then you've got yourself a sweet ride. If you still like small but just need some of the features I was missing, the 2014 Kia Forte EX has a lot more standard features with options for everything else.
Thinking about a small sedan for yourself or for one of your kids? Come along for the ride and see what life in a small car is like.
* I just finished listening to 11-22-63 by Stephen King. Whether you read it or listen to it, I highly recommend it.