I'll admit that the new-for-2020 Mazda CX-30 had me scratching my head when I first saw it at an auto show earlier this year and here's why.
Mazda Offers Cargo Space for Everyone… and then some
Mazda offers the large and luxurious CX-9 for three row comfort. It offers the CX-5 to cover the compact SUV market with unstated elegance. It most recently introduced the CX-3, an adorable little subcompact SUV that's perfect for the millennial market. And just in case you like the cargo space without the SUV feel, there's the Mazda3 hatchback that drives acts like a car but still gives you plenty of cargo space.
So where exactly does the Mazda CX-30 fit in this line-up?
That's the question I had to answer before I could even enjoy my time zooming around in this new model.
Mazda CX-3 and CX-30 are most similar in nature. The CX-3 is deemed a subcompact crossover while the CX-30 is considered a subcompact SUV. Is there a difference?
You bet! And it all comes down to important qualifications like ground clearance, vehicle height, and cargo space.
Mazda CX-3
Mazda CX-30
Mazda3 Hatchback
Ground Clearance
6.2 inches
6.9 inches
6.1 inches
Vehicle Height
60.9 inches
61.7 inches
57.3 inches
Cargo Space
(behind second row/with second row folded flat)
17.8 ft³/42.7 ft³
20.2 ft³/45.2 ft³
20.1 ft³/47.1 ft³
Length
168 inches
173 inches
176 inches
Width
70 inches
71 inches
71 inches
If you look at all of the data, it's very clear that the subcompact CX-3 was maybe a little too subcompact with the Mazda3 Hatchback exceeding it in nearly every dimension. But the Mazda3 is built like a car and that's reflected in the vehicle height and ground clearance.
The Mazda CX-30 is coming in as a true subcompact SUV. Overall, if cargo space is what you're looking for in a small Mazda, the Mazda3 Hatchback is the way to go. But if you want most of that with an SUV feel, you'll be looking at the CX-30.
Oh, and just in case you were still interested in the Mazda CX-3, it's still around but Mazda is only offering the Sport trim for 2020. It's definitely an entry level vehicle and it remains to be seen if it will be around permanently.
Let's focus on the Mazda CX-30
Now that you've had your lesson in all things subcompact Mazda, let's look specifically at the CX-30.
If you recently read my review of the Mazda3 sedan, you won't find a lot of new information here. The Mazda CX-30 shares the same engine (Skyactiv-G 2.5L 4-cylinder engine) and the same automatic transmission (Skyactiv-Drive 6 speed with sport mode). The result is the same horsepower and torque both coming in at 186.
If you didn't read my last review, you probably would like to know that it's a responsive, zippy engine That feels like just the right amount of power for this vehicle. And if you need a little extra push, the Sport mode will rev the engine a little higher to give you a bit of a boost.
The exterior has a few unique design touches that you'll either love or not love. The tailgate, for example, has a shape that we could only describe as having more girth than most Mazda vehicles.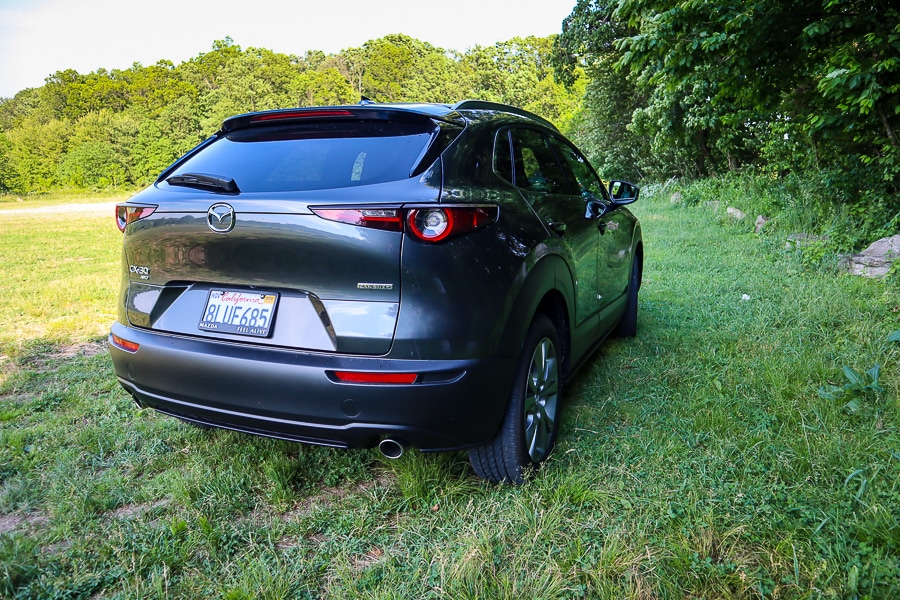 And the sides of the vehicle are covered with cladding, a trend that I wished went away with the 2000s. You'll find that it provides a nice continuity from the bumper to the wheel wells and it looks stylish enough with the Machine Grey Metallic. With other body colors, I worry that it would provide too much contrast. But more importantly, my experience is that cladding requires extra maintenance or else it fades quickly over time.
The interior also looks very similar. It's bit of a minimalist dashboard, being interrupted only with an 8.8 inch rectangular display. I didn't take much advantage of the native infotainment system as I opted to take full advantage of the Apple CarPlay integration (Android Auto is also offered).
If I'm being picky, though, I will admit that I don't love the center console here. Although the CX-30 uses the commander control knob to control the screen embedded in the dash (one of my FAVORITE features with all Mazdas), the cupholders are awkwardly placed and there's nothing discreet about the USB connection for Apple CarPlay.
I did like the sliding compartment in the center, though. It's roomy but not huge. It houses a 12V port and another USB outlet but it's the sliding cover that's clever. When it's slid back, you can place easy access items like a phone or wallet inside. Or the lid can completely cover the console for safety or privacy.
Now, since this is an SUV, let's talk about how much cargo it can carry. The most important cargo being, of course, humans. It is a five-passenger vehicle but don't expect five people to fit comfortably. In fact with the front seats slid back, your leg room is minimal in the rear.
From a passenger perspective, I'd recommend this vehicle for singles, a couple, or even a small family with one or two small children. If you have anything more than that, you'd probably want to size up to the Mazda CX-5.
For the rest of my perspective on the Mazda CX-30, it's probably best to give you some real world scenarios.
Spending a Week in the Mazda CX-30
I drove this vehicle during the week of my husband's birthday. And since we were all locked down, he picked one of his favorite places for takeout, Mission BBQ, and ordered an insane amount of food.
While my catering order might not impress you, I did also make my first quarantine run to Costco in this vehicle where I fit $428 worth of groceries in the back (see my video below for proof!). I was able to put the 60/40 split rear seat flat and push all my large items in the back (with room to spare).
We also visited one of the few places that was open during my review week – the park! We love to go hiking at Patapsco Valley State Park, and so, apparently, does everyone else.
In the end, it was a perfect way to close out the week. We got to enjoy some unspoiled views and even found the the CX-30 looks best in the wild.
All the Details about the Mazda CX-30
The 2020 Mazda CX-30 is offered at four different trim levels, in both FWD and AWD:
CX-30, starting at $21,900
CX-30 Select Package, starting at $23,900
CX-30 Preferred Package, starting at $26,200
CX-30 Premium Package, starting at $28,200
This is different nomenclature than is offered for other Mazda models but the packages are fairly all-inclusive. No need to add this and remove that.
For this review, I drove the 2020 Mazda CX-30 AWD Premium Package. There were upcharges for the premium paint ($300), frameless auto-dim mirror ($275), and the navigation SD card ($450). That put the total MSRP including destination charge at $31,670. Not a bad price for a top of the line vehicle but remember – friends don't let friends pay MSRP.
This vehicle also offers 25/32 mpg with an average of 27 mpg. I didn't put many miles on the vehicle while reviewing but I observed about the same.
If you're in the market for a subcompact SUV, this is a solid, fun-to-drive contender.
Video Review of the Mazda CX-30
Seeing is believing – so take a look at the ins and outs of the Mazda CX-30.
Be sure to check out all of my car reviews!